Traveling to China soon? You should not skip the information shared in this article because it will save you not only the time for researching how to stay online in China but also the money by helping you avoid common mistakes that travelers to China often make.
Now, let's start!
Note: It is important to know that the Internet can be strictly restricted in China.
Find more details below!
Table of Contents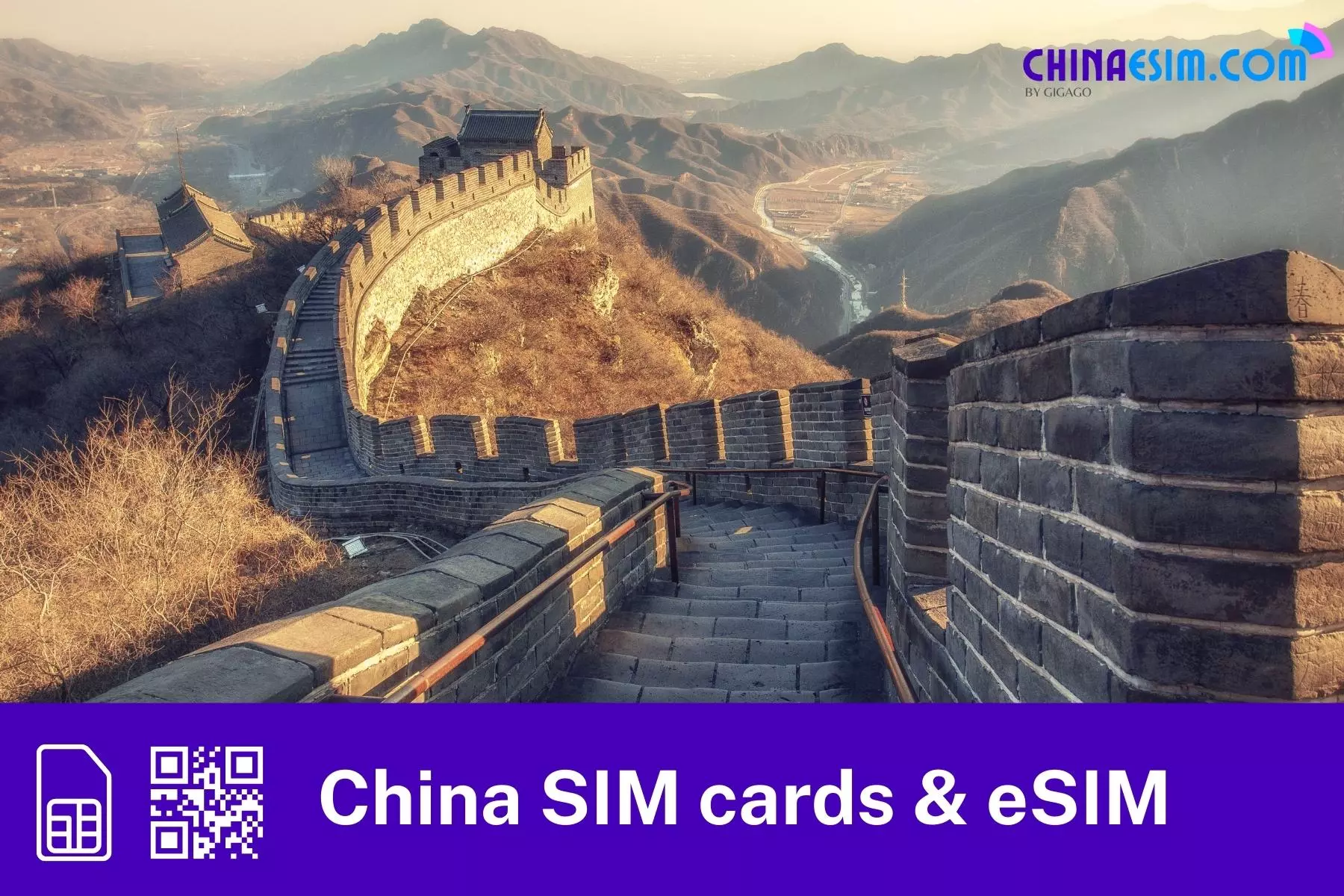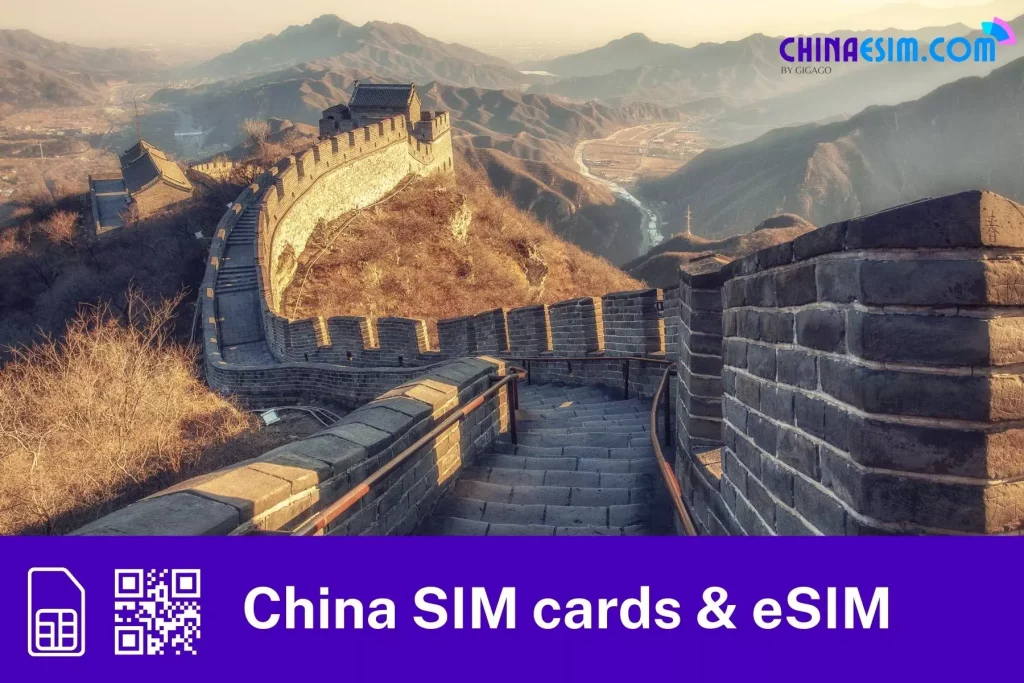 I. About China SIM Card: Mobile Internet, Telecommunication and Internet Policies
1. Mobile internet in China?
There are a wide range of options for travelers to China to stay connected. Some are free, some are cheap and some are very expensive.
The most popular are:
Prepaid SIM card – CHEAP
eSIM cards – RATHER CHEAP
Pocket Wifi – MODERATE
International roaming – VERY EXPENSIVE
Free Wifi – FREE BUT SOMETIMES NEED TEXT VERIFICATION
Each option has their own pros and cons, but the most recommended is using prepaid SIM card/eSIM cards. So why? See below:
Ways to stay connected in China
Features
Prepaid SIM cards
The traditional way to stay connected in China
How to use: Insert a plastic SIM card into an unlocked mobile phone.
Where to buy: from an online shop or from physical stores of either Chinese mobile operators or phone stores once arriving in China
What to buy: 2 options: data only or data + voice + SMS
Registration process: require personal information like passport/ID card.
eSIM
A new way to stay connected while traveling
How to use: require an unlocked, eSIM-compatible mobile phone. Just buy it online, scan QR code to install and activate. No need to remove the main SIM card.
Where to buy: buy it online in your hometown before departure (most recommended) or after arrival in China.
What to buy: data-only (no analog calls or SMS), but still make calls or send texts through apps.
Registration process: no need to register your personal info.
Pocket Wifi
A device connecting to the Internet via a wireless local area network (WLAN). This acts as a hotspot which mobile devices can connect to the Internet.
International roaming
Involves in paying certain fees for voice, SMS and mobile data to your domestic mobile operator in order to use your main SIM card in China
Where and when to buy: must be requested before traveling to China.
Price: very expensive in compared with other options
Free Wifi
The most economical way to stay online during your trip, but coming with low security.
Where to get it: from hotels, restaurants, cafes, famous attractions, parks,…
Price: free (but in fact, sometimes, you need to pay a small fee for buying something (ex. At a coffee shop) in order to have password for free WiFi
Note: Many public WiFi networks in China require text verification. You may be required to submit a Chinese phone number to get a security code via text to use the WiFi.
From the table, we can see that using a prepaid SIM/eSIM card is the most up-to-date, convenient and flexible option to get Internet connection. Especially, using an eSIM does not require you to queue up or wait for SIM card delivery. It can be bought, installed and activated 100% online. Sounds great? We will tell more about it later on.
Good to know:
Staying online in China is easy. But, this country has certain restrictions on telecommunications and the internet. Chances are, you will not be able to use all apps in China like you use in your hometown. However, there are still alternatives allowing you to have VPNs to use all the apps you want.
2. Mobile Internet coverage map for China SIM card
If you choose SIM cards for China, it is crucial to consider the coverage of your SIM. Remember that sometimes, cheap eSIM cards have poor coverage, which may leave users to have no Internet connection when you need it most. 
Below we uncover the coverage map of 3 popular mobile operators in China:
China Mobile 3G/4G/5G coverage map in China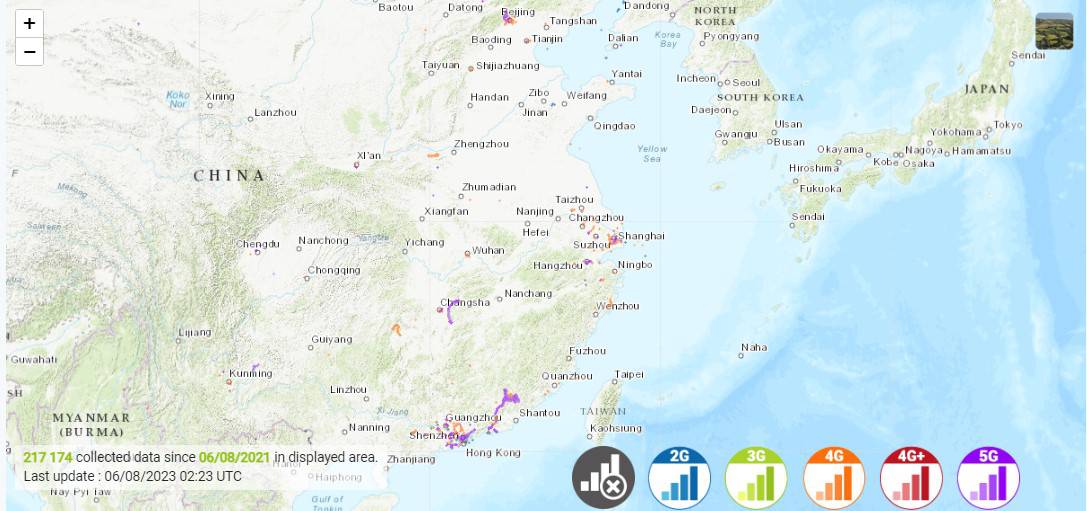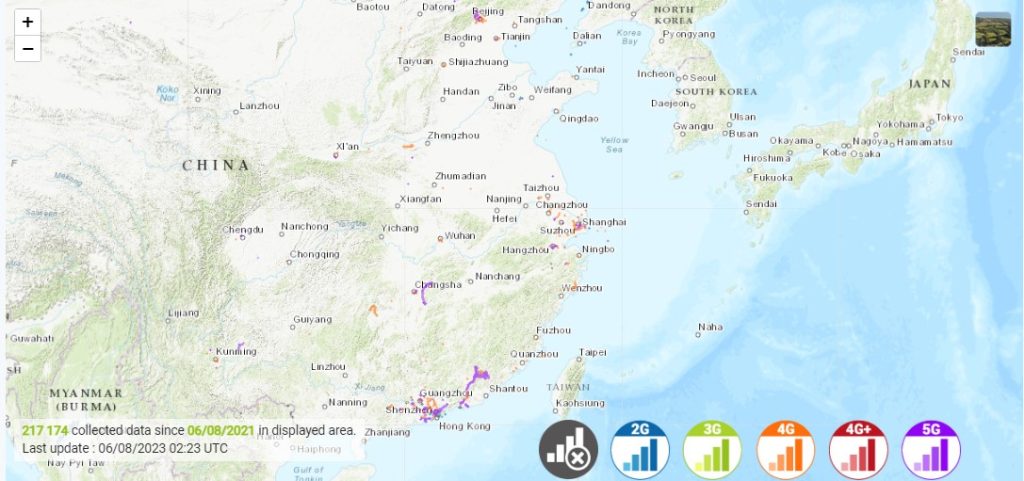 China Telecom 3G network coverage map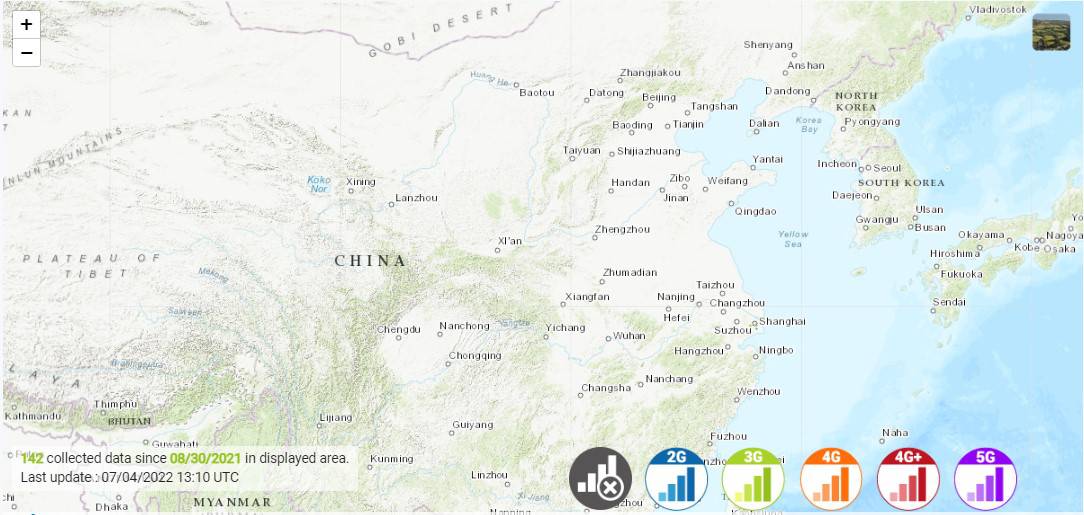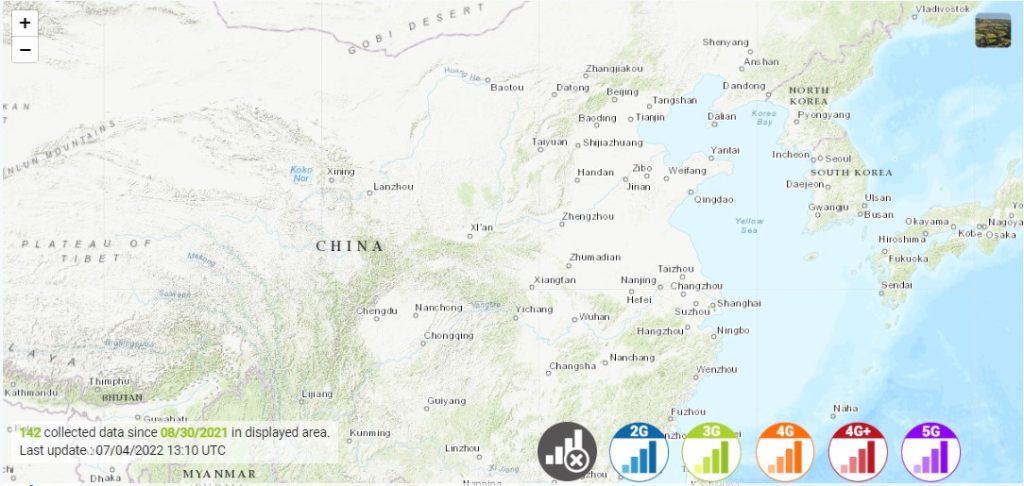 China Unicom 3G/4G/5G coverage map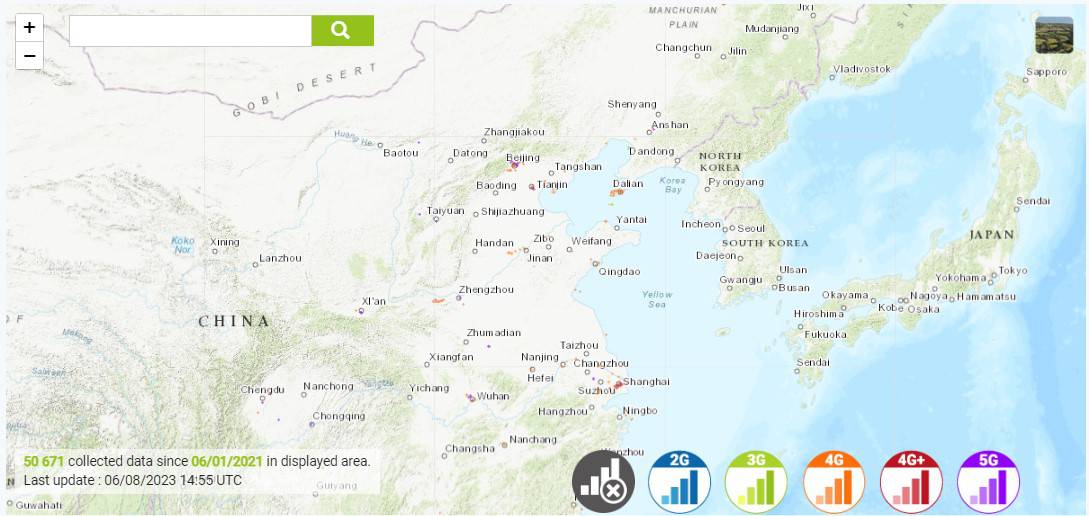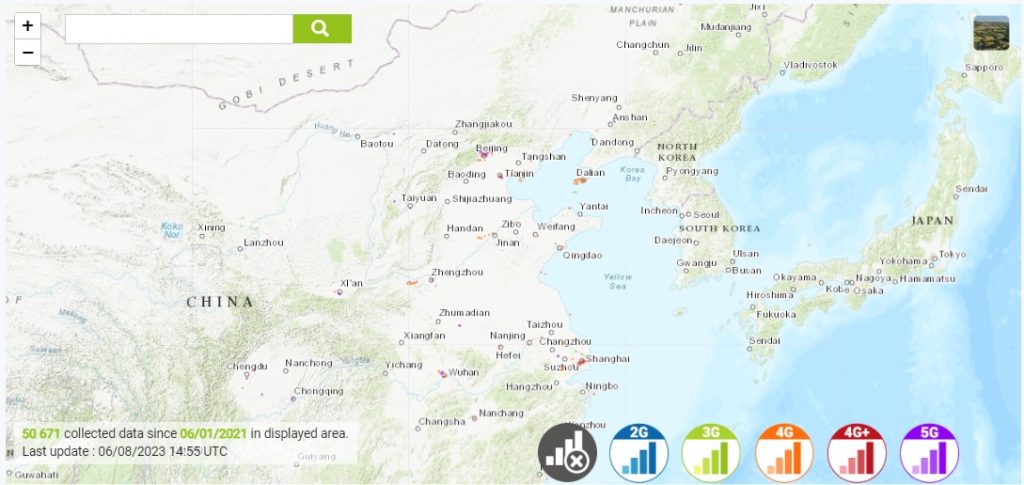 II. Why use a China SIM card when traveling to China?
When traveling in a new country, you may want to access the local cellular networks and use your current phone to stay connected with your family and friends, be it through making calls, sending SMS or surfing the Internet.
However, there are some reasons why you should not or cannot do it:
Your current SIM card may be not compatible with the local networks in China.
The roaming charges for using your primary SIM card abroad may be too expensive.
China has strict Internet censorship, and some websites/apps may be blocked when you use your current SIM card.
So, to stay connected while in China, it is recommended to invest in a local SIM card/eSIM and use a reliable VPN to browse more easily.
Benefits of using SIM cards in China
By buying a new SIM card for China, you can get some benefits as follows:
Getting a local SIM card for China will save you money on international roaming charges.
You do not need to switch between different SIM cards while still receiving calls/SMS from your primary line.
You can take advantage of China's 3G and 4G network to have coverage (because you are using the local network directly rather than roaming through a 3rd party network)
It can save you more money in case you do not want to make calls or SMS, but using data only by buying a data-only SIM card in China.
Note:
Before buying a new SIM card in China, make sure that your phone is unlocked so it can obtain the signals of Chinese mobile operators.
III. Where and How to Buy a China SIM Card?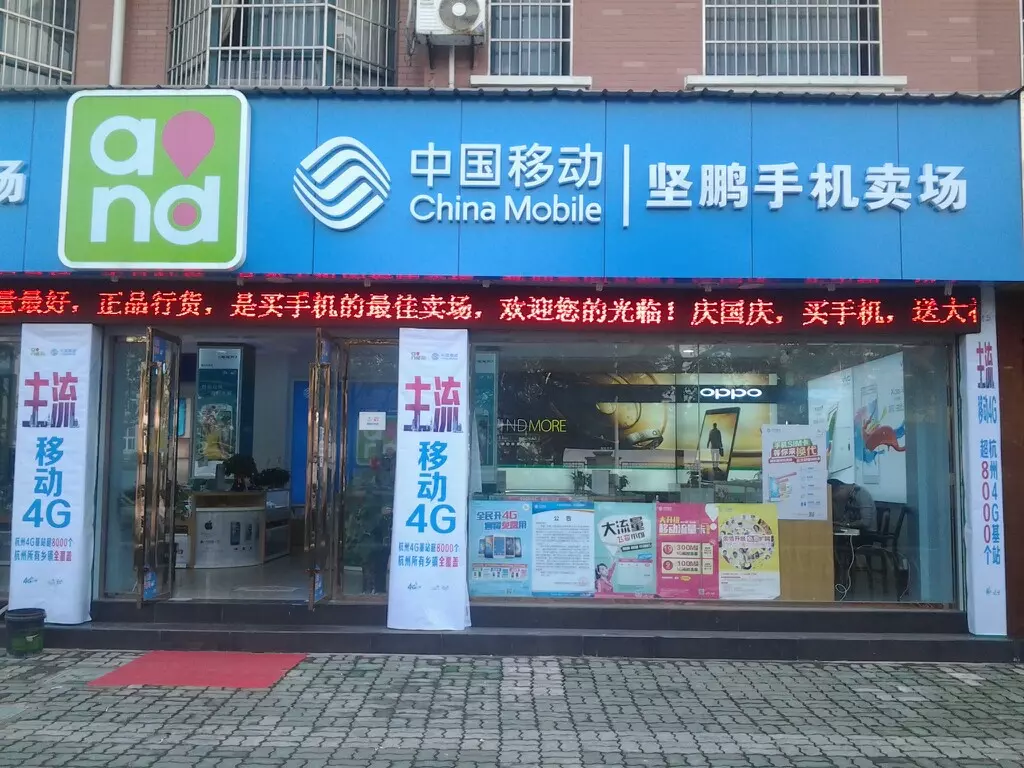 You know that using prepaid SIM cards/eSIM are an effective and economical way to stay online for tourists while traveling to China.
Now, you may wonder where and how to buy it. The truth is, telecommunications in China are easily available. You can find China (e)SIM cards in online stores, local operator's stores, at the airport, in convenience stores.
Below, we will explain where you can buy SIM or eSIM for China travel:
1. Buy China SIM card online before travel
This is the most convenient and time-saving way to buy a SIM card for China travel. You can choose an online store, choose the plan that fits your needs, pay, and wait for it to be shipped to your house door. No personal registration is needed.
The good things about buying your prepaid China SIM Card before departure are:
No restricted Internet in China. It is because some providers also include VPN with their prepaid SIM Cards.
Have the internet from the first moment you land in the country.
Support different languages for customers from over the world.
Save money. Compared to other options like international roaming or using pocket Wifi, the prepaid SIM card bought before your trip will be much cheaper.
More safer. Having your own mobile internet connection is much safer than using free Wifi in China.
Save time. No contract signing and no registration at all. Buying a local SIM Card after arrival in China can be time-consuming. You may need to find a store, communicate with the staff there to let them know what you want, and register so your service can work.
Tips:
The online SIM provider usually gives the information about the local network that covers the package you choose. At this point, you had better check if that network has good coverage and speed in the destination you plan to travel to.
Estimate how many days it will be shipped to your house. Of course, this should be prior to your departure date.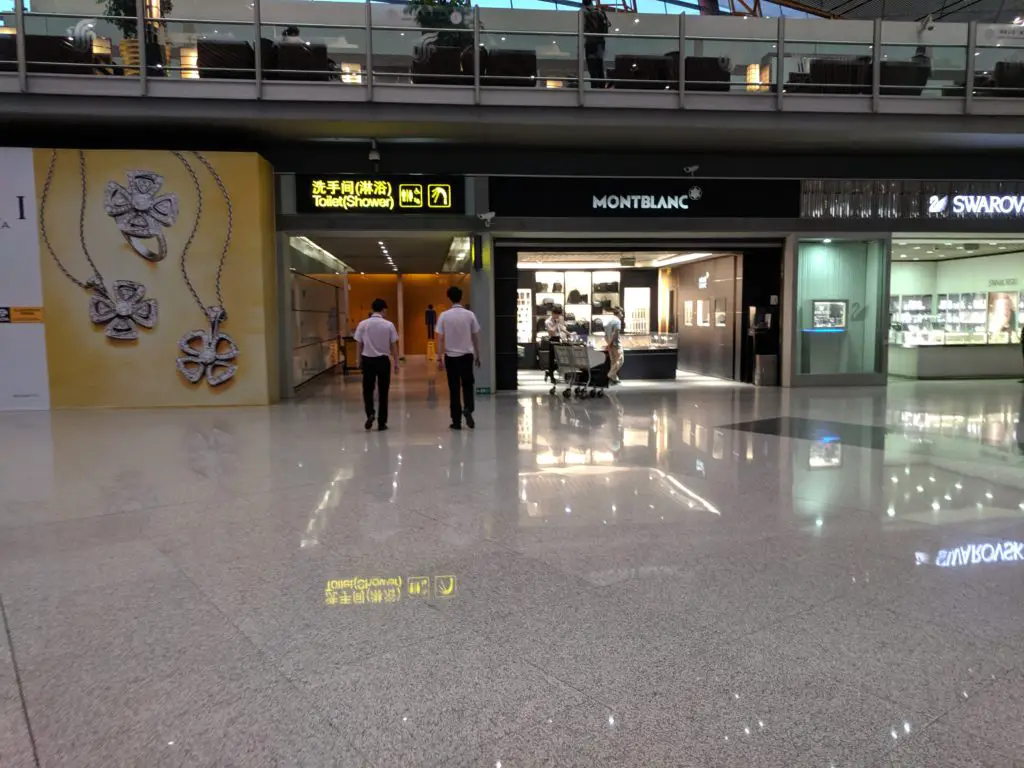 2. Buy China SIM card at Chinese airports upon arrival
After landing at Chinese airports, you can go to a physical store of a certain Chinese mobile operator, pick a package for your preferences, and wait for it to be set up and activated by the staff there. However, buying SIM at the airport also means you have fewer options to choose from. There, it takes more time to queue up and requires you to go under a registration scheme according to the Chinese laws.
The bad thing about this way is that:
Depending on the time you land at the airport, these physical stores may or may not be open
There may be fewer options to choose from at the airport (than buying in the city center).
The prices of SIM packages at the airports are more expensive than other places.
Note: Don't worry, most staff at airports can speak English well.
3. Buy in China: at local operators' stores, shopping malls, convenience stores
Buying a SIM card from a local operator may not be the best. As a foreigner, you may have some limitations like going through the SIM card registration process, not being familiar with the local map to find the store, and not being able to communicate with the staff there to express what you want.
IV. How many types of Chinese SIM cards for travelers are there?
There are 2 forms of SIM cards for tourists in China:
Physical SIM card
eSIM card (digital SIM)
Let's see in details:
1. Physical China SIM card
It can be mini-SIM, micro SIM, nano SIM.
This type is classified into 2 major categories:
Prepaid local SIM cards
Tourists SIM cards with calls, texts and data
All these types of physical SIM Cards for China require you to present your passport and probably personal documents like ID card.
2. Prepaid tourist eSIM for China
This type includes 2 main categories:
Prepaid data-only eSIM; and
Prepaid eSIM with data, calls and SMS
While prepaid physical SIM cards are a traditional and popular option among locals and tourists, eSIM sounds new to many people. However, this type of SIM is associated with a lot of benefits that the traditional plastic one does not have. It is 100% online, can be installed and activated wherever and whenever you are.
Speaking of tourist eSIM cards, in general, and China tourist eSIM, in particular, it is often about the data-only eSIM. Travelers choose this because it helps save money while still giving them the ability to maintain contacts via apps.
►So which type of SIM to choose when traveling to China?
Choose prepaid data eSIM for your China trip.
Note: FaceTime, FaceTime Audio, and FaceTime links are NOT supported in China Mainland.
V. China SIM Card Alternative: China eSIM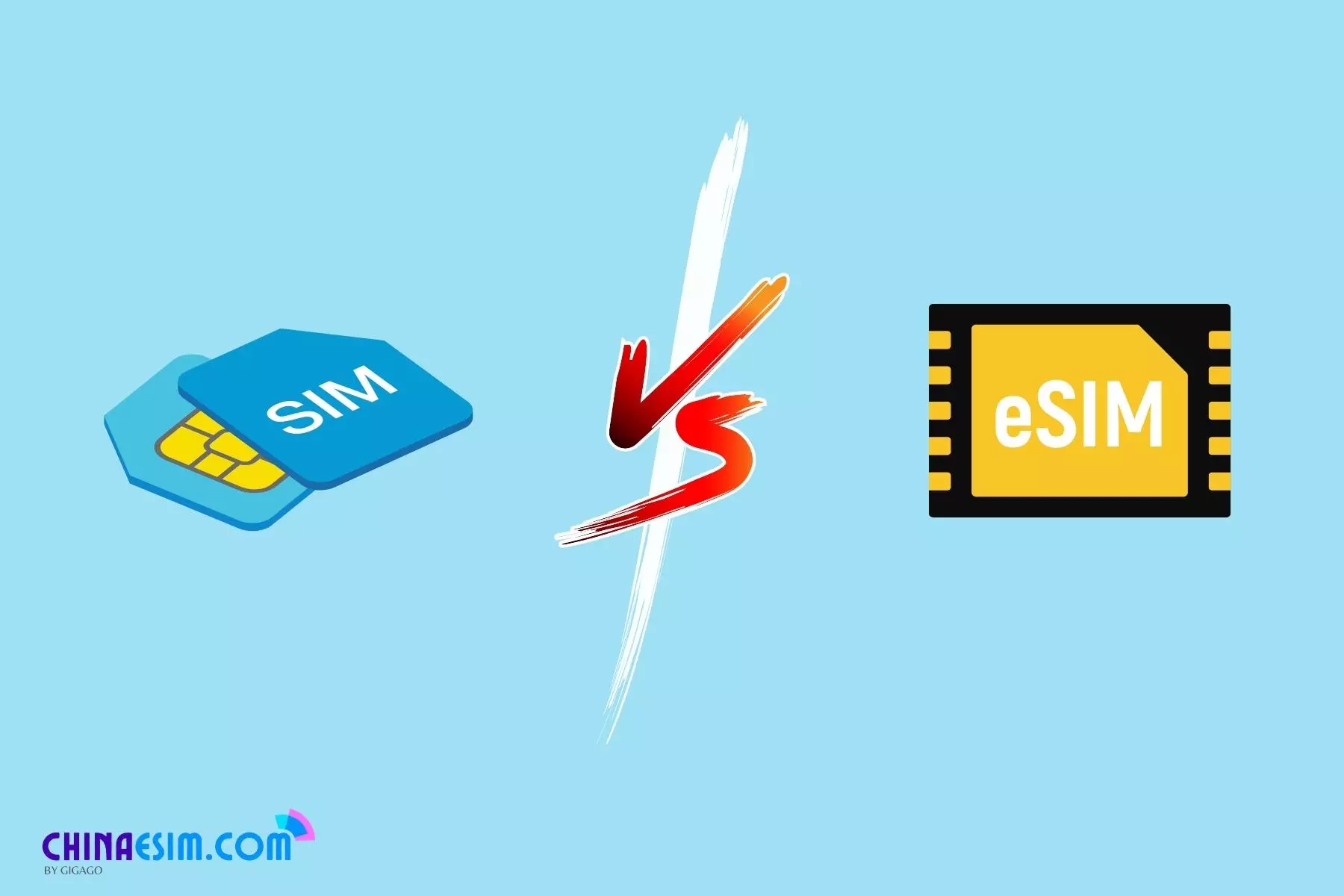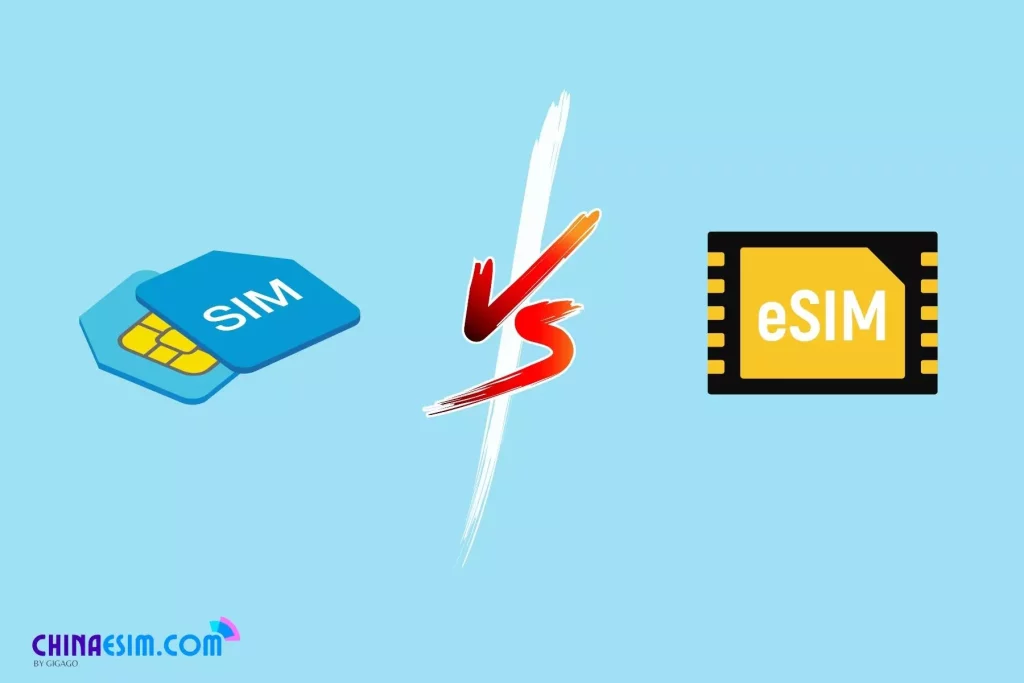 What you need to know:
eSIM is not supported in mainland China.
While phones produced for most countries / territories in the world include 1 SIM slot + 1 eSIM, in China, eSIM is not practical because of the solution is still in trial stage, pending approval for further trials, also cross-carrier plan transfer is not applicable, so in China dual physical SIM slot is offered.
1. What is China eSIM?
The China eSIM for tourists is an electronic SIM Card that allows travelers to access the internet, make calls, and send text messages without having to change SIM Cards or looking for a local provider. This helps save time as well as effort for travelers to focus on their trip.
eSIM technology is rather new, so not all phone models work with eSIM.
Below are some features of a China eSIM you need to check before buying:
Your phone needs to be compatible with eSIM
Your phone needs to be unlocked to Chinese mobile operators
You need an email address to receive eSIM information after making payment
You need an Internet connection to install and activate your eSIM.
Some providers will ask you to set up their app to download and manage the eSIM.
Most eSIM do not offer mobile calls, or text SMSs, only data. You can use apps like Skype or WhatsApp instead.
ESIM can be installed once only, so do not remove it from your device, but contact us.
Some eSIM plans allow users to share data between devices while others do not.
If you use dual SIM iPhone, you can keep your primary SIM when traveling China
Why? Let's see a comparison table between tourist SIM card and eSIM for China travel by major criterias:
| | | |
| --- | --- | --- |
| Criterias | SIM Card | eSIM |
| Form | A traditional, physical, plastic SIM card, requires users to insert/swap out of the SIM tray. | A digital/virtual SIM embedded inside the motherboard of a mobile device. No need to swap out any SIM card. |
| How to use | Remove the primary SIM card first, then Insert the China travel SIM into the tray and set up, then activate. | Scan the QR code to install the eSIM. It will be automatically activated upon arrival in China without any hassle. |
| Where to buy | Buy in stores, or buy online and wait for shipping | Buy 100% online via websites/apps. |
| Procedure of buying | Either require personal documents or not require | No need of personal info |
| Price | Rather cheap | Higher but worth every penny |
| Bonus feature | No VPN included, probably not being able to bypass China firewall. Maybe blocked when accessing some specific websites/apps. | VPN included, bypass China firewall. Browse the internet without restrictions. |
Now, let's see some main advantages and disadvantages of virtual SIM cards for China travel.
Pros
Cons
– Buy, set up in minutes
– Diversifying options for travelers
– Data with VPN
– If you need more, buy more
Require compatible phone
So, the biggest advantage of a China travel eSIM is that it has a VPN included, so you can browse the web in China without any hassle.
This is a problem that many travelers who buy SIM cards in China have to cope with and eSIM resolves it easily.
Is it beneficial?
What to do if my phone does not support eSIM?
If you cannot buy or use an eSIM, we recommend you to buy a physical SIM card for travelers instead.
2. Where and How to buy a tourist China eSIM?
An eSIM is a virtual SIM card which can be bought, installed and activated no matter where you are.
Where to buy tourist eSIM for China?
The easiest way to buy a travel eSIM for China travel is buying it before departure.
Similar to buying SIM cards before departure, you can buy an eSIM either from a local mobile operator or an eSIM provider.
Which documents do you need to show when buying a tourist eSIM for China?
All 3 Chinese network carriers require documentation like passport/visa/ID card/stamp to buy and register your SIM card.So if you choose to buy eSIMs from them, you have to show your passport.
If you buy eSIMs from eSIM providers, you do not need to show anything but money.
The eSIM providers you should choose to buy are Thailandesim.com, Gigago, Holafly, etc. Buying eSIM from them also gives you more options with different mobile carriers (rather than buying from only one carrier). 
VI. How much does a tourist eSIM for China cost?
You can get an eSIM for China travel from either Chinese mobile operators (if available) or eSIM providers.
The eSIM price that 3 mobile network carriers in China cost you are rather similar.
On the other hand, you can get an eSIM for China with just 4 USD to 99 USD from eSIM providers like Chinaesim.com, Gigago, etc offering from 1 GB to unlimited data. These eSIM packages can work in either China only, in Asia or globally.
Note: You also need to confirm in which province/city it is valid to activate your SIM card before arriving.
Below we will go over the eSIM options offered by the Chinese mobile operators, Chinaesim.com. Let's go!
VII. Chinaesim.com offers China eSIM
Below are a list of popular eSIM providers for China travel:
Look at the different plans offered to access the Internet in China. Then, pay close attention to the prices and features of the provider, you can choose the deal that fits you best. 
This is an eSIM provider specializing in China only eSIM and regional eSIM covering China.
To acquire an eSIM with Chinaesim.com, you only need to visit their website, look up the plan that suits your needs, make payment and proceed to complete the installation.
Coverage: Mainland China, Macao, Hong Kong
Features: prepaid, data-only, VPN included, give tourists the ability to bypass China Firewalls.
How it works: the eSIM will be delivered to your email address about 5 minutes after payment. What to prepare: An unlocked, eSIM-compatible mobile device. No contract or personal info registration required.
Best data plans of Chinaesim for tourists:
Pros:
Specifically for China market only (both local and regional plans)
Customer support is more focused and attentive
Diversifying options for different budgets and Internet usage habits
Suitable for both short-term, long-term travelers
Large coverage: Mainland China, Macao, Hong Kong
Network: 3 popular networks in China
Allow to share data via hotspot, tethering
Competitive price
100% online from buying to setting up to activating
VPN include, surf the web / apps in China without restrictions
Multi-language customer service
Cons:
Data only, no phone number, so no analog calls or texts
Quick review on the best eSIM providers for China travel:
So, which eSIM plans for China travel are the best for tourists?
From the review above, we can see that Chinaesim.com seems to be the best provider with affordable, diversifying options for the average tourists to China.
You can find both local and regional plans from this provider. 
VIII. Understanding about telecommunication and China internet laws for China SIM cards
Telecommunications and Internet regulations in China are managed strictly by the Chinese government. It relates to internet usage, censorship and online activities.
The government also requires all companies operating in the telecommunications field to register and comply with specific rules and regulations.
Tourists in China need to acknowledge these laws to avoid any legal issues while using the Internet or telecommunications services in the country.
Pro Tip:
If traveling to China, you should use a virtual private network (VPN) to access the blocked websites and protect your privacy.
Now, let's see what restrictions on Internet access in China are.
1. Restrictions on Internet access in China
Basically, the restrictions on Internet access in the mainland China include:
The Great Firewall of China: This is a system controlled by the government that blocks access to some particular websites and services deemed improper or politically sensitive. The noticeable platforms that are blocked are mostly social media sites like Facebook, Instagram, Twitter as well as new websites like the BBC and the New York Times.
Internet censorship: the government monitors online activities and censors content which are considered harmful or critical. This includes blocking certain phrases or keywords, erasing posts or comments, and even arresting people sharing such information online.
So, to navigate these restrictions, a traveler to China can:
Use VPN: this is a tool encrypting the internet traffic and allows users to bypass the Chinese Great Firewall. But, it is worth noting that not all VPNs work in China, and some may be blocked or subject to Chinese surveillance.
Do online activities cautiously: do not share sensitive information or opinions online. Even the seemingly harmless activities like using/sharing certain memes or emojis can be deemed inappropriate by the government.
Take advantage of alternative platforms: Facebook, Instagram, Twitter are popular Western social media platforms and blocked in China. Travelers can still use local alternatives such as Weibo or WeChat to stay connected with other people. However, because travelers often do not have access to such platforms before, it is rather difficult to take advantage of it, in reality. Also, these platforms are subject to government censorship and surveillance.
2. What are the consequences of breaking telecommunications and Internet Law in China?
You will probably cope with some problems below:
Heavy fines: apply for both individuals and companies who violate or are found guilty.
Imprisonment (in some extreme cases)
Blacklisting: apply for both individuals and companies, so it will be difficult for them to do business in China.
Deportation: foreigners breaking the laws can be deported from China.
To minimize these consequences, you are advised to:
Use a VPN
Avoid sensitive topics
Follow the rules
Be cautious with public Wi-Fi network
Seek legal advice from a local lawyer
Pro Tips:
You should download any apps or content you want to use before departure, or play it safe and avoid any websites that can be blocked in China.
Get a VPN before leaving (if you have no other better options) to secure your browsing activities and keep it away from prying eyes.
IX. FAQs
Can eSIM be used in China?
China mobile operators just offer eSIM for postpaid customers only. If you want to use China eSIM when traveling to China, you have to buy eSIM from eSIM providers like Chinaesim.com, Holafly, Airalo, not from local mobile operators.
What is the best China SIM card to use when traveling to China?
If you are going to travel in China, we recommend using a SIM card from China Telecom, China Unicom, China Mobile or from Chinaesim.com. They are local Chinese mobile network providers and eSIM providers which offer eSIM services for tourists to China with a lot of advantages.
Can foreigners get a China SIM card?
Yes, you can buy a SIM card in China at the airport or in local phone stores in the city center. However, buying at the airport, be it Beijing airport or Shanghai airport, is an easier option which allows you to get connected right away after arrival without having to go to local phone stores.
Are VPNs banned in China?
Using VPN is legal in China. Although China has restrictions in VPN usage and blocks a number of VPN providers, customers can legally use VPNs that work in China.