I. Introduction to China Mobile as a Network operator for tourists
During your trip in China, it is essential to use the service of a reliable network operator to stay connected with your family and friends and access useful applications.
Among mobile network operators, China Mobile is one of the leading telecommunication providers in China, providing both local and international customers with network services.
Table of Contents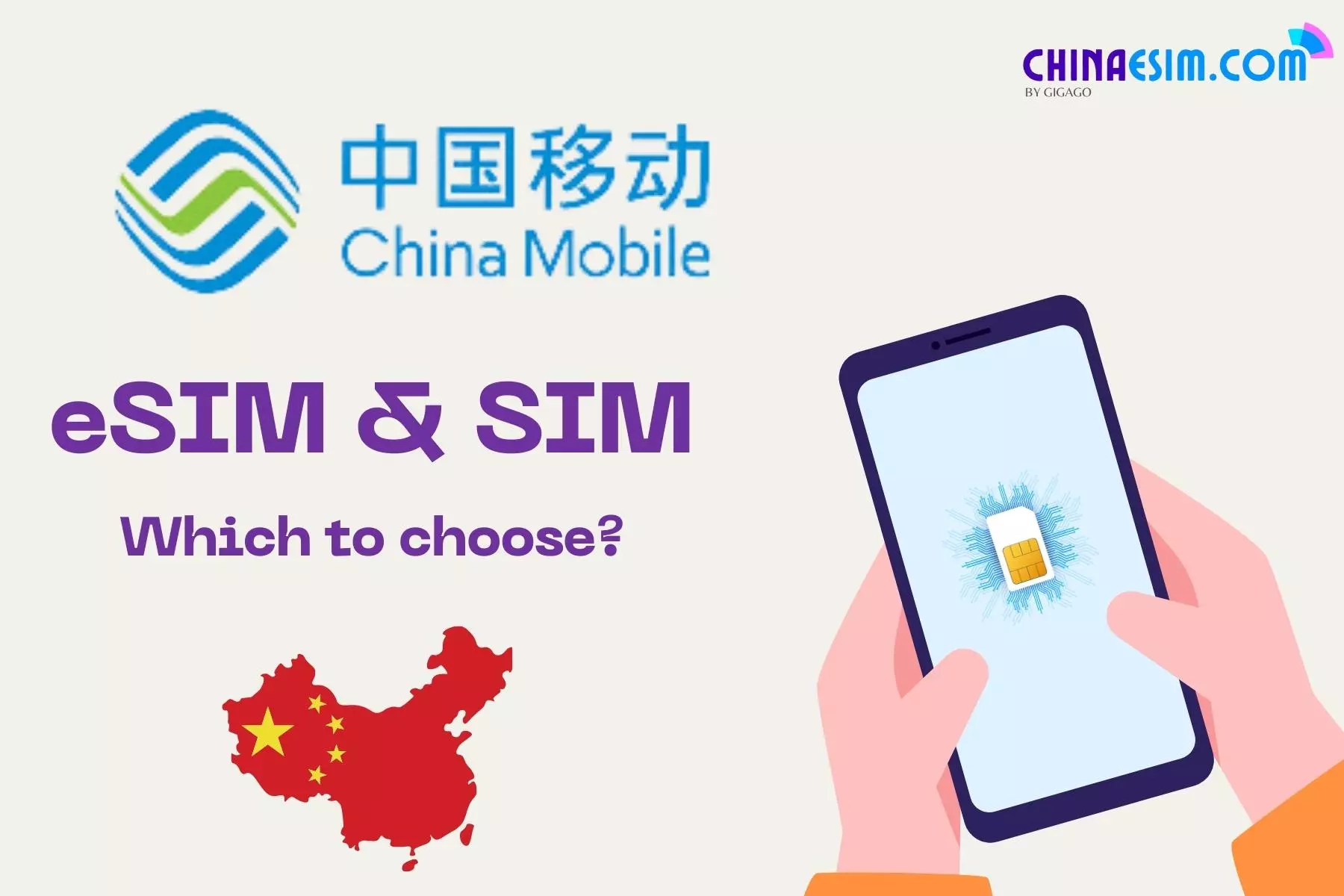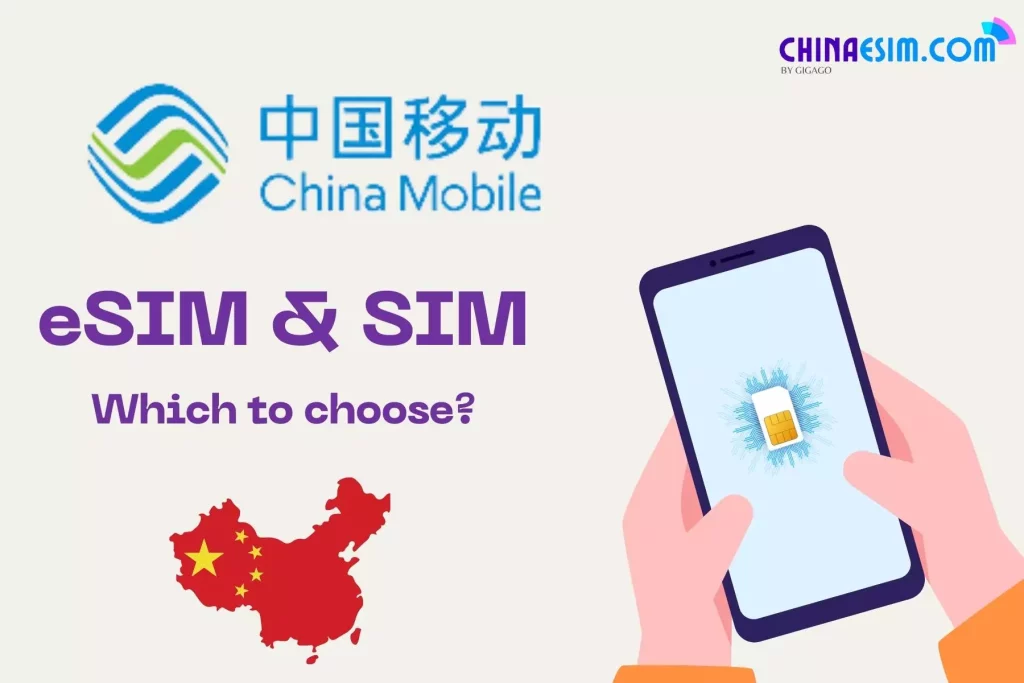 Need to know:
China Mobile is the largest mobile operator in China and worldwide, with about 950 million subscribers.
China Mobile is run by the Chinese government, similar to 2 other major network operators China Telecom and China Unicom.
China Mobile provides extensive network coverage across popular tourist sites in China, both bustling cities and remote areas.
China Mobile offers roaming services, giving you the ability to maintain connectivity when traveling between different regions or internationally.
China Mobile offers prepaid SIM Card options for travelers. You can buy these SIM cards at airports or retail stores. To buy a SIM card for travelers, you need to go under a simple registration process.
China Mobile offers many data plans customized for travelers only, including data for internet access, voice call minutes and text messaging services. 
mobile netword operators in China offering the best SIM & eSIM services you may concern
Top
II. China Mobile network coverage, speed test result, and other statistics
1. China Mobile network coverage
First, let's see the quick details on China Mobile's coverage:
2G: 1800 MHz
3G: 2100 MHz
4G/LTE: 900 MHz (Band 8), 1800 MHz (Band 3), 2100 MHz (Band 1), 2300 MHz (Band 40) & 2600 MHz (Band 7)
5G NR: 3500 MHz (n78) & 4700 MHz (n79)
VoLTE: Yes (but not for prepaid customers)
VoWiFi: Yes (but not for prepaid customers)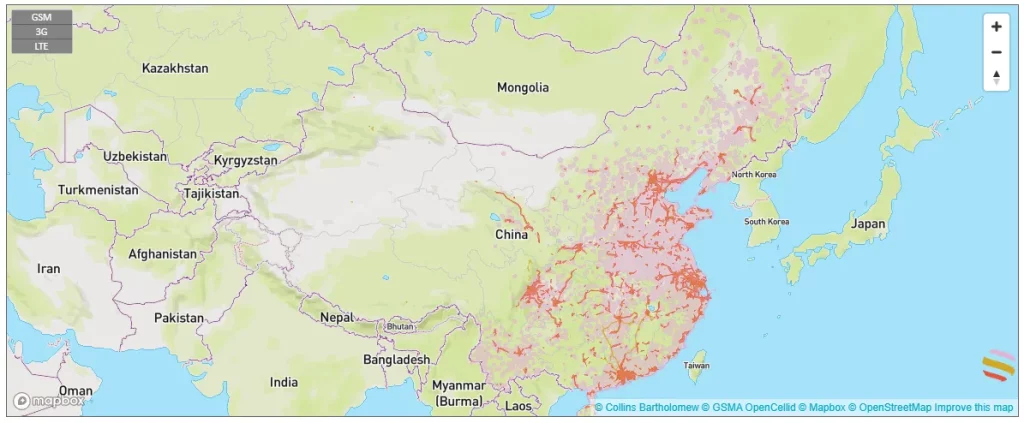 2. China Mobile speed test result and other statistics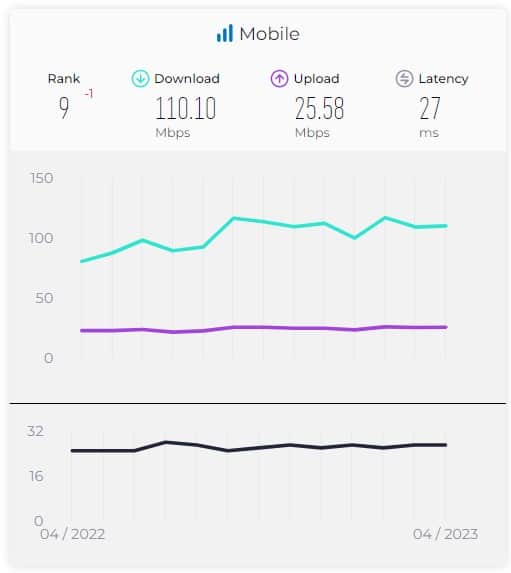 Below is the statistics about China Mobile based on some factors, according to Speedtest Intelligence (Q1 2023):
Download speed: China Mobile offers the fastest median download speed at 138.95 Mbps.


Median multi-server latency: China Mobile registered the lowest median multi-server latency in China at 44 ms.


Consistency: China Mobile has the highest consistency in the country with 94.2% of results displaying at least a 5 Mbps and 1 Mbps minimum download speed and minimum upload speed, respectively.


5G performance: China Mobile has the fastest median 5G download speed in China at 291.24 Mbps.


III . China Mobile services and offerings for travelers
Here is an overview of which services that China Mobile offers to travelers:
1. Prepaid SIM card options
China Mobile provides prepaid SIM cards particularly designed for tourists. These SIM cards are available at various locations, such as airports, official outlets of China Mobile and retail stores.
2. Data plans
China Mobile provides data plans that allow travelers to access the internet while on the go. You will have a specific amount of data for a defined period of time, allowing you to use navigation apps, browse websites, use social media and access online services during your trip.
3. Voice call and message services
China Mobile also provides voice calls and messaging services for tourists to China. You can make phone calls, send SMS, and keep in touch with other people in your hometown while in CHina. But, international calls and messaging rates may be expensive, so you should check the price details in advance.
4. Other value-added services and features.
China Mobile also offers other digital services and apps that can help you with language translation, transportation, and local information.
IV. China Mobile SIM / eSIM data plans for inbound tourists
When it comes to options for travelers to China to stay connected during their trip, there are 2 major ones: SIM cards or eSIM.
SIM cards: the traditional physical SIM card, with functions like making voice calls, textng SMS, and getting Internet access using mobile data.
eSIM: a virtual/digital version with similar features like physical SIM cards.
For China Mobile network operator, it offers 4G/3G prepaid SIM cards for individual travelers.
This network operator is also the only one that offers eSIM service for customers, among 3 major Chinese phone carriers.
If you are considering buying an eSIM for China travel through China Mobile, you have to go through an application and registration process. As a traveler, you cannot do this.
If you still want to acquire a prepaid SIM card with China Mobile, you have the last resort, which is a traditional SIM.
China Mobile provides customers with 24-month contracts and 4G – 4.5G and 5G speed plans with various data options to use within 1 month.
All the plans offer the chance for unlimited minutes within China mainland, and Mainland + Macao free roaming.
► So, which one is best for tourists to China?
Our answer is China Mobile eSIM. See why below!
V. Why use China Mobile eSIM in China? Benefits
China Mobile eSIMs are compatible with common phones, including the latest generation phones that support the technology.
Some benefits you can get after signing up with the eSIM service of China Mobile:
6GB of 4.5G + 128 kbps Unlimited data after the high speed data was used up.
Port-in offer: $88/Monthly & Free 2GB Local Data.
Free 1GB Mainland China & Macau Roaming Data Package.
Unlimited Local Airtime Minutes.
VI. How to get a China Mobile SIM card or eSIM & Prices
Now, you have had a basic understanding about China Mobile. It is time to talk about how to get a China Mobile SIM card.
Unlike most countries in Asia, you should not visit a China Mobile store to buy a China Mobile SIM card.
It is because most China Mobile stores only deal with postpaid customers – not prepaid ones.
Instead, you can visit convenience stores or other retail stores to buy the SIM card.
For eSIM, you have a much better option: buying China Mobile eSIM from eSIM providers before departure.
Which eSIM provider that offers China Mobile eSIM plans for tourists to choose from?
There are many eSIM providers offering travel eSIM of China Mobile, but the most noticeable is Chinaesim.com (belonging to Gigago.com).
This eSIM provider has the most varying data plans for tourists to choose from in comparison with other competitors in the market, both local and regional. Their plans DO NOT require VPN and allows you to bypass China Firewall, so you can access the Internet in China without restrictions.
Below we gather 10 eSIM data plans from Chinaesim.com that are covered by China Mobile (and other network providers as well):
VII. How to Activate a China Mobile eSIM in China
To activate a China Mobile eSIM in China, follow these simple steps:
Contact China Mobile: Start by reaching out to China Mobile for their 4G, 4.5G, or 5G services. You can do this either online through an application form or by visiting one of their customer service offices in person.
Choose eSIM: Once you have signed up for the service, you have the option to choose the eSIM at no extra cost. To do this, call 12580 and follow the instructions given by the specialist you speak to. Alternatively, you can activate the eSIM at one of the physical offices.
Prepare for activation: Before you begin the activation process, make sure you have an active internet connection, an accessible email account, and a mobile device that supports eSIM technology.
VIII. How to Top Up and Check Balance with China Mobile
To top-up and check your balance with China Mobile, follow these procedures:
1. Top-up
Online: Visit the China Mobile website or use their mobile app to access the online top-up service. Follow the instructions provided to add credit to your account using a credit card, debit card, or other accepted payment methods.
Voucher: Purchase a top-up voucher from authorized retailers or convenience stores. Scratch off the protective layer to reveal the voucher code. Dial the top-up number provided by China Mobile, enter the voucher code when prompted, and follow the instructions to complete the top-up process.
Automatic top-up: Set up automatic top-up by linking your bank account or credit card to your China Mobile account. This way, your account will be automatically recharged when your balance falls below a certain threshold.
2. Balance Check
USSD code: Dial *100# or *#123# from your China Mobile phone and press the call button. You will receive a message with your current balance and other account details.
China Mobile App: Download and install the official China Mobile app on your mobile device. Log in with your account credentials to access your balance and usage information.
Customer Service: Contact the China Mobile customer service hotline or visit a physical customer service office to inquire about your balance. Provide your account details or mobile number to the customer service representative, who will assist you in checking your balance.
Remember to keep track of your usage and top up your account regularly to ensure uninterrupted service with China Mobile.